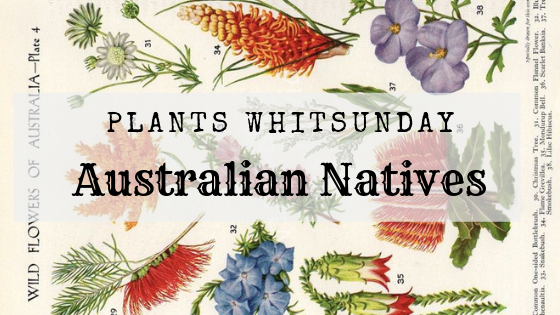 With Australia Day just around the corner it feels only fitting that we introduce you to some of our favourite Australian Natives, a few of which are local to the Whitsunday area too! The beauty of Australian natives is that they are generally quite hardy plants that attract native Australian wildlife and produce brilliantly coloured and uniquely shaped flowers.All of the plants shown here are stocked in our nursery, come in or contact us on 07 4946 1258 to chat to us about how you can incorporate Australian natives into your garden.
Grevillea
Grevilleas are a diverse flowering Australian native that come in all shapes and sizes, from small shrubs and hedges to tall trees and low growing ground cover. Their unique and beautiful flowers make them not only an attractive edition to any garden but also a huge draw card for Australian wildlife with their sweet, thick, honey like nectar bringing in the bees, butterflies and birds! With varying leaf shapes and sizes and a stunning array of vibrant flowers the Grevillea is a popular plant amongst many gardeners.
The Moonlight Grevillea has a delicate fern-like leaf and their flowers are said to glow in the moonlight. It is a great feature plant, flowering all year round and also makes an effective informal screen.
WHITSUNDAY NATIVE
Lemon Myrtle (Backhousia Citriodora)
This Whitsunday native is a delightful, slow-growing attractive tree or bushy shrub that emits a brilliant citrus aroma when the leaves are crushed. Their outstanding clusters of creamy-white flowers attract butterflies, bees and birds and their leaves are great in a tea as a pick me up and to help soothe colds. Their bushy foliage is green with the young leaves sometimes a rustic red colour and they can be clipped to form a neat hedge. The fragrant leaves are not only great for tea, but also complement many culinary dishes from fish and chicken to ice-cream and sorbet – so you can be as creative as you like!
WHITSUNDAY NATIE
Corkwood (Melicope Elleryana)
This fast-growing Australian native's stunning clusters of pink flowers sprout from the trunk and branches in as little as one year! An evergreen shrub or bigl tree the corkwood makes up for 90% of the Ulysses Butterflies food – so where you find a Corkwood you will also find these stunning blue North Queensland butterflies! Attracting birds and butterflies the Corkwood provides good shade and likes full sun.
Davidson's Plum (Davidsonia pruriens)
This Australian Native is a small slender tree with attractive foliage and brilliant coloured dark blue/purple fruit that is a deep reddish-pink inside. The fruit is not recommended for eating fresh but is becoming popular with Australian chefs and can mostly be found as a jam or preserve. Touted to have more antioxidants than the blueberry! This Australian superfood prefers a warm climate and is native to tropical and subtropical rainforests.
Swamp Bloodwood (Eucalyptus Ptychocarpa)
The Swamp Bloodwood is a small to medium growing Eucalyptus tree that can reach 15m in height. It has one of the largest leaves of all the Eucalypt family and is highly ornamental due to its wonderful display of pink flowers that harden into large decorative gumnuts. Also attracts nectar feeding birds, bees and butterflies.
WHITSUNDAY NATIVE
Whitsunday Bottle Tree (Brachychiton Rupestris)
Originating in the area makes this tree the truest of the local natives. The Whitsunday Bottle Tree is highly protected and can be found growing around the islands of the Whitsundays. Distinctive for its large bottle shape trunk which becomes more pronounced with age, this coastal Bottle Tree has large woody seed pods that follow the small flowers. You can spot one locally outside BIG4 Adventure Whitsunday resort and at the lookout on Langford Island.
Golden Penda (Xanthostemon Chrysanthus)
Coming in a variety of sizes the Golden Penda is a fabulous rain forest tree that is perfect for sub-tropical and warm temperate climates. Producing masses of yellow flowers and dark glossy leaves, Golden Pendas are fast growers and are attractive to birds, bees and butterflies. They also make fantastic screens or windbreaks!