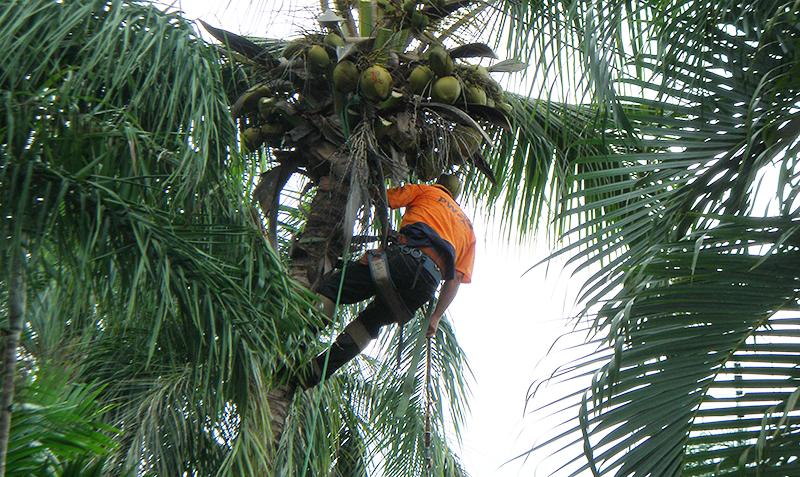 With ex-TC Owen's uncertainty already keeping us on our toes this wet season, it's a timely reminder we need to get ourselves and homes ready for the rest of the Whitsunday summer. In particular, what's on our mind is how to prepare your garden for the wet season and give it the best chance of looking just as beautiful on the other side of summer.
So, let's take a look at some tips to help your garden cope with the wind and rain that storm season brings.
Preparing your garden for strong winds
To prepare your garden for the wet season and its strong winds, you need to look at reducing wind resistance, and also maximising the stability of your trees.
Pruning is key to giving branches a better chance of withstanding winds. After all, foliage that is thick and bushy offers too much resistance to the wind. Trim your trees before the threat of damaging storms or cyclones and remember to protect your home by clearing away loose or dead branches.
You can encourage the roots of your trees to grow deeper into the soil and make them more stable, by taking up an appropriate watering regimen. When you water thoroughly, but infrequently (every few weeks for example), the water soaks deeper into the soil, encouraging root growth to follow.
Preparing your garden for heavy rain
Prepping your garden for summer rainfall is not only about protecting it from a deluge, but also water management.
Before the big wet is a great time to spruce up your garden beds with a layer of organic mulch,  but, it's essential to add a wetting agent too. The combination of mulch and wetting agent will:
Protect your plants from drying out in the heat of summer
Absorb and disperse moisture more evenly
Reduce the amount of watering you need to do
Inhibit weed growth
Keep your gardens looking fresh and well-maintained
When rain's on the way, it's a good idea to turn off your automated sprinkler system. There's no need to add to the deluge, and it's the perfect time to save on water usage.
When heavy rain does occur, it often washes away essential nutrients in your lawn. So apply a lawn fertiliser at the end of the wet season to rejuvenate it as the relief of autumn weather arrives.
Need more advice on how to prepare your garden for the wet season? Contact our friendly Garden Centre team today on (07) 4946 1258 or if you need assistance triming those hard to reach branches, PW Tree Services are able to help, call 0427 571 624.