Casting tropical spells over all types of gardens the frangipani is a beautiful flowering tree that thrives on little maintenance. A reliable summer flowerer, the frangipani blooms in over 300 colours and petal variations in Australia alone. From pretty pink and butter yellow through to deep blood red and even blue! Popular for their stunningly frangrant and hardy flowers the tree itself can grow over 6m high and 5m wide making it great for shade in summer.
PRO-TIP: Frangipanis are nearly all deciduous. Plant them on the western side of your house to block the hot afternoon sun in the summer will then allow the sunlight to shine through onto your home in the winter months.
Caring for your Frangipani
With a shallow root ball they are perfect to plant near pools and houses without the roots causing structural damage and they also work well in wide pots. Great for beach houses too as they are tolerable of sandy soils and salty air ie. great for waterfront Whitsunday properties!
Do not overwater your Frangipani, make sure they have lots of sun and keep them out of the wind as best as possible.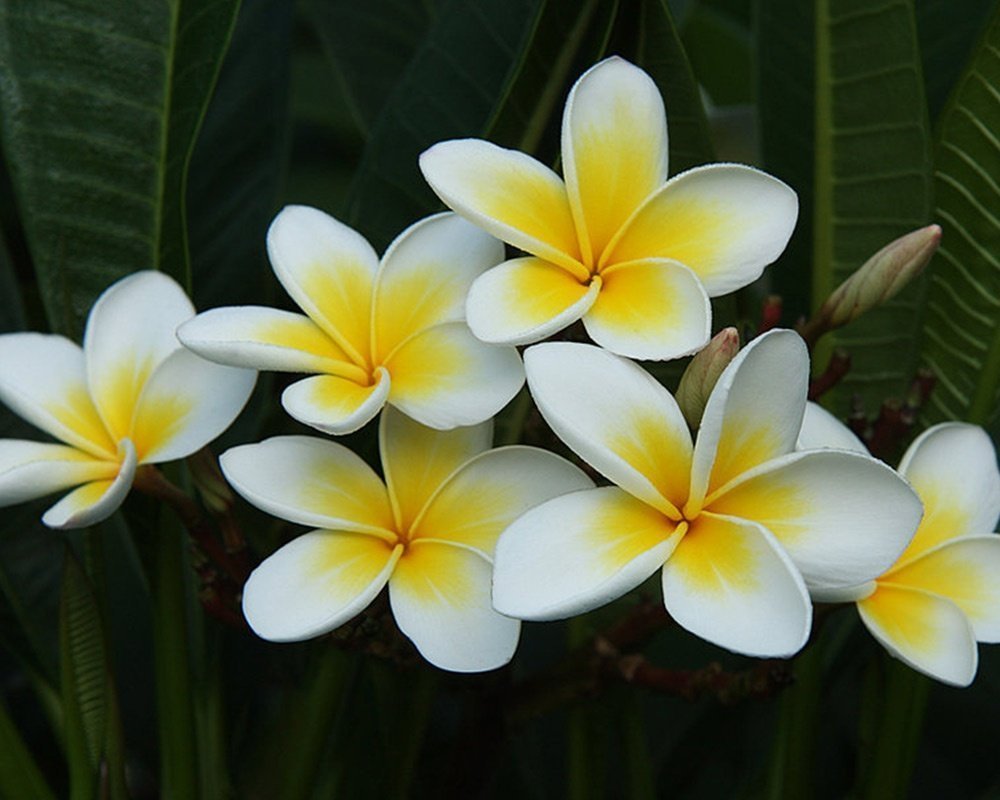 Varieties in stock
Common White: Highly scented flower with a light yellow centre which fades to a rich cream colour as the flowers age.
Singapore White: One of the most popular known Plumeria, An evergreen tree that bears scented white flowers with a yellow/orange centre.
Pink: Several variations of colours, from white centred, pale pink to yellow or orange centred, pale to dark pink.
Tricolour/Fruit Salad: Commonly known with several colour variations. Flowers are red/pink on the margins with a yellow eye and pink throat.
Cerise/Hot Pink: A hardly thick stemmed tree, intense hot pink flowers with tiny blood orange centre. Highly fragrant.
Darwin Yellow: Highly scented light yellow flowers on outer ridge going to a deep yellow in the centre. Dark green foliage.
Darwin Blues: New variety. Beautiful scented lilac to blue petals with dark green foliage; highly sought after frangipani.
Black Jack Red: Another exciting new member to our collection with the first dark foliage, almost black with scented dark blood red flowers.
Cherry Clusters: A true dwarf, with orange centred cherry coloured flowers arranging in an unusually and rare cluster which don't fully open, giving them their unique appearance growing no more than 2 metres.
Little Rainbow (dwarf): A new and exciting variety with the first "obstusa" tri-coloured flower, vibrant apricot/orange and pink petals, beautifully scented, only recently introduced into Australia.
See our other plant spotlight blogs here.