Children naturally engage really well in outdoor environments making creative landscaping for learning spaces an important project for all school and childcare facilities. Outdoor play areas facilitate a child's need for social engagement, interaction with the natural world and provides an appropriate space where children can release energy, use loud voices, play vigorously and take part in messy projects.
We have been lucky enough to be involved in designing and building some pretty great local play areas for kids. Below are a couple of our favourites from the landscaping for learning spaces folder.
St Brendan's Catholic School, Mackay
The brief was to build a fun, adventure space with a strong emphasis on natural elements for grade 1-3. With the inclusion of an interactive creek.
With approximately 300m2 to work with we built an interactive adventure obstacle course that included games and a waterway. The boys did a great job on the project – and also had a bit of fun with quality testing the end result!
The standout feature of this landscaping job is the natural looking creek featuring a hand water pump for the children to engage in water play. To keep it Waterwise the creek is recirculating with a hardwired lockable switch. Other features include, a boulder wall, rock-climbing wall, rubber wet pour, synthetic grass, hopscotch, a checkers board, a balancing beam, stepping logs, bridge, sitting areas, pathways and automatic irrigation.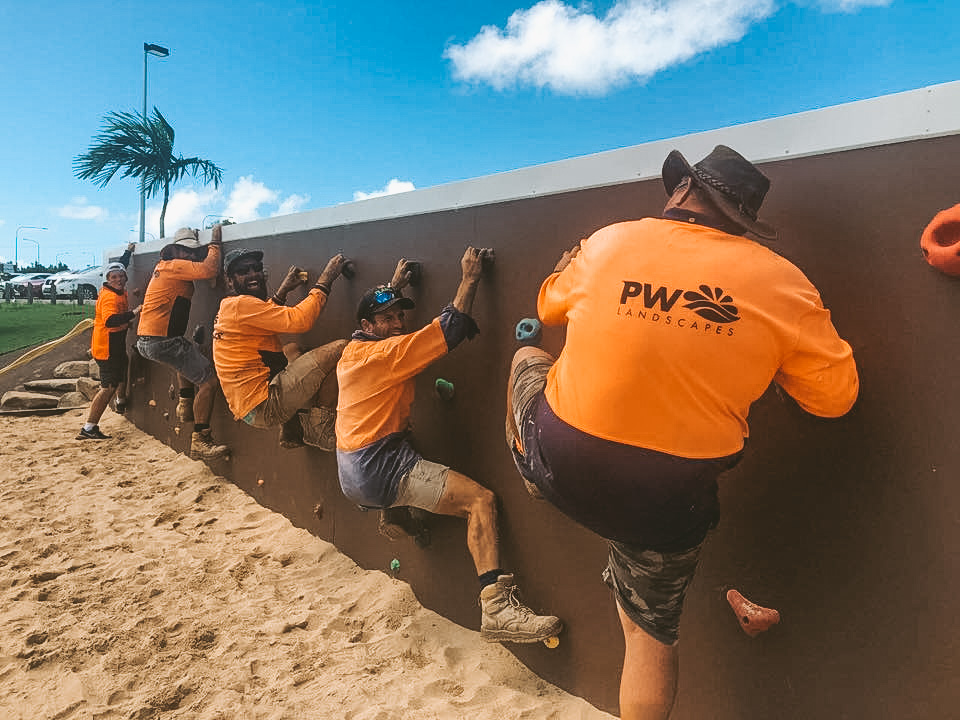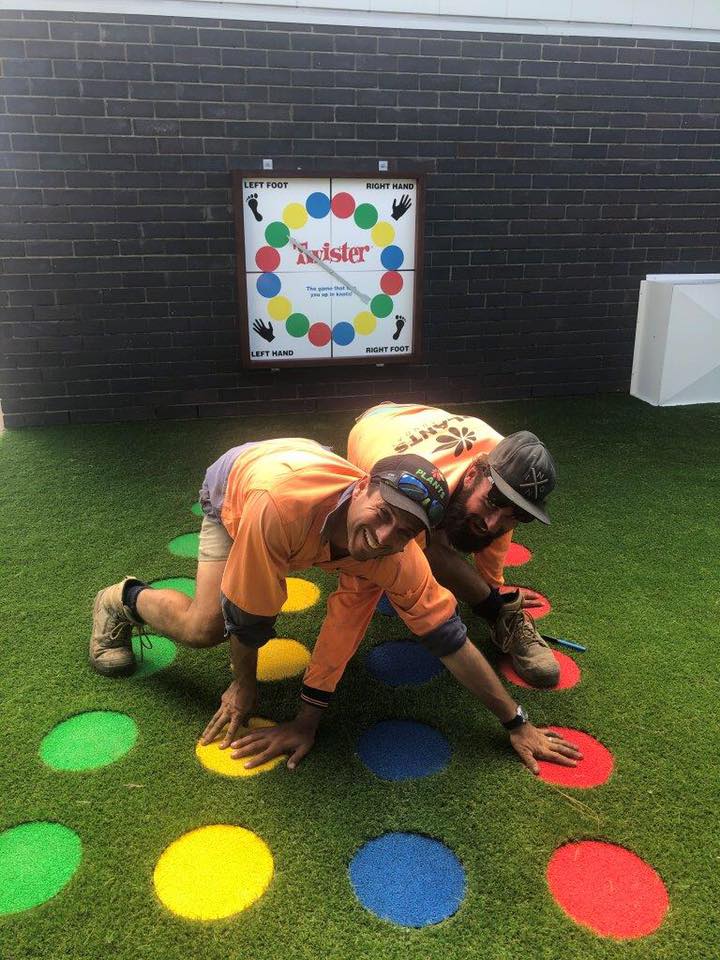 Emmanuel College, Mackay.
The brief was to create a safe, semi enclosed area with a natural creek for younger kids to play in. The fun, adventure space was to be used for both play time and lessons with the inclusion of water play in an area approximately 100m2 to suit children ages prep and above.
Included in this project was a wall mural, grandstand type seating area, exposed aggregate recirculating creek, aluminium privacy screens, vertical garden for edibles and lots of little colourful details to enhance and inspire creativity and play.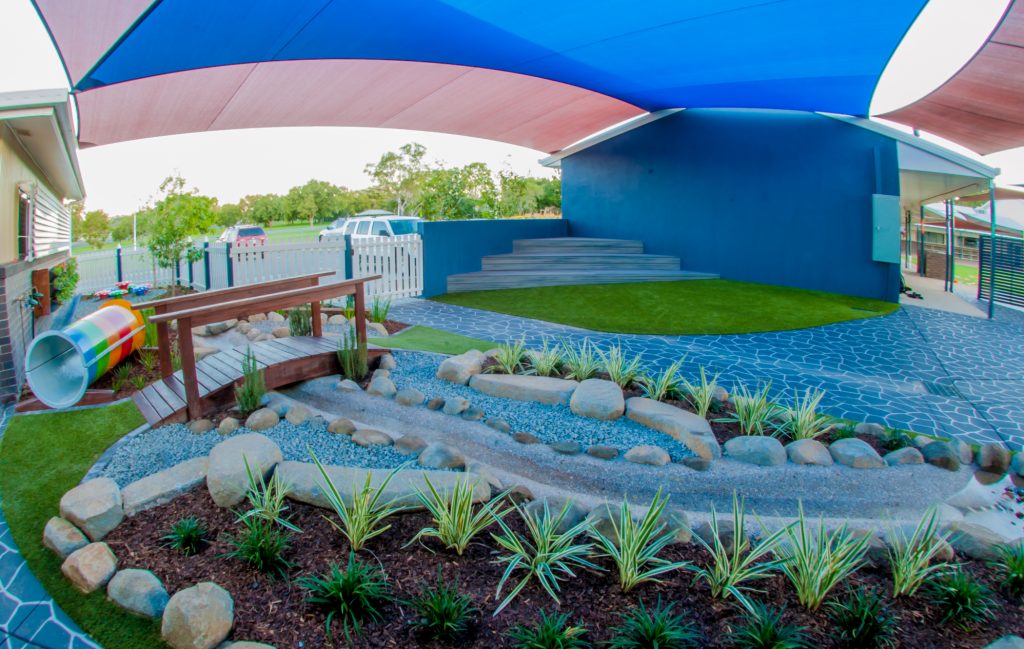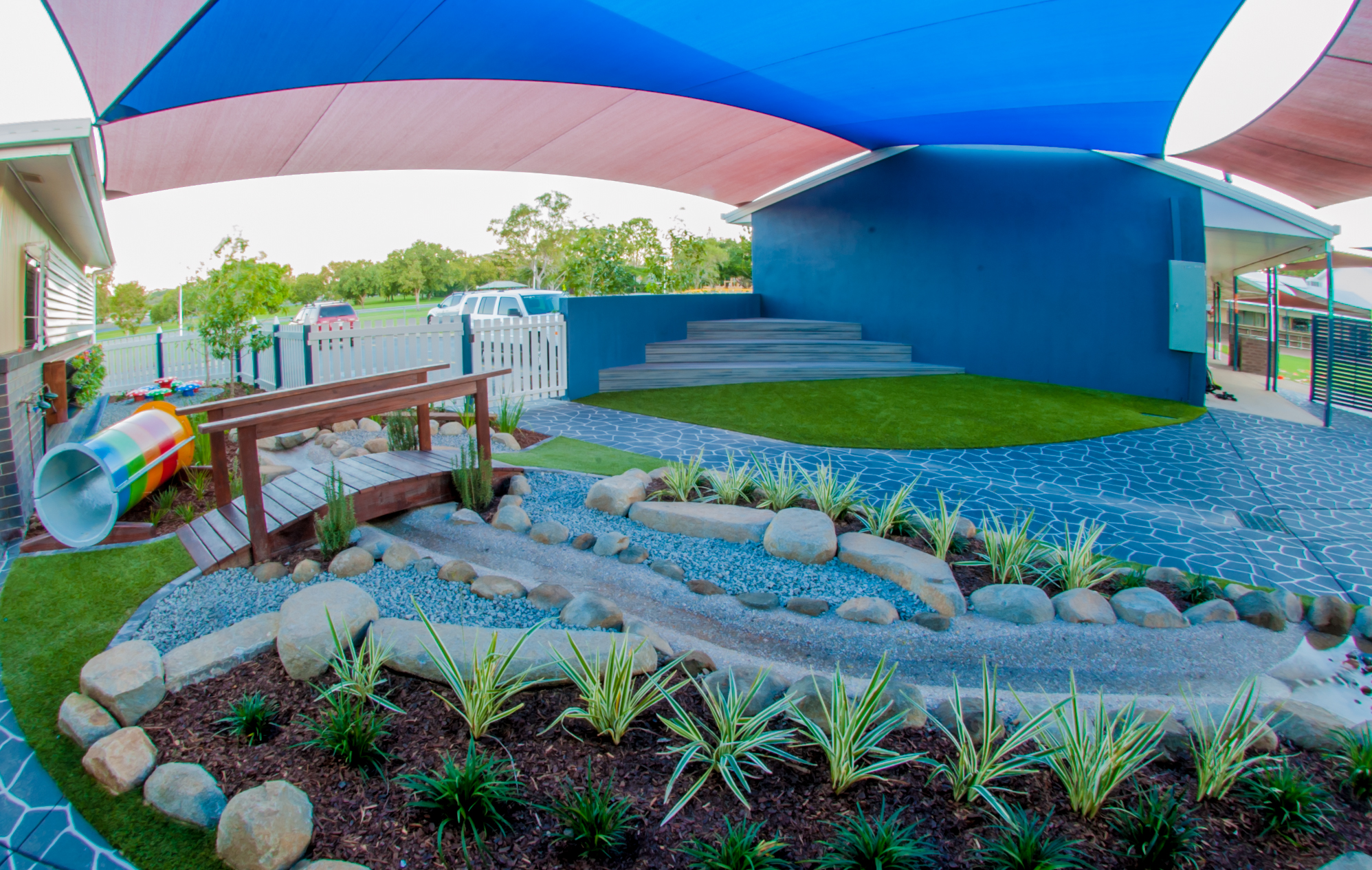 Landscaping for learning spaces is always a fun and satisfying project knowing that the children will ultimately love an outdoor, engaging and interactive space!
Visit our landscaping page to find out more or request a quote by phone 07 4946 1258. Don't forget to follow us on Facebook and Instagram to stay up to date on all things landscaping and gardening.