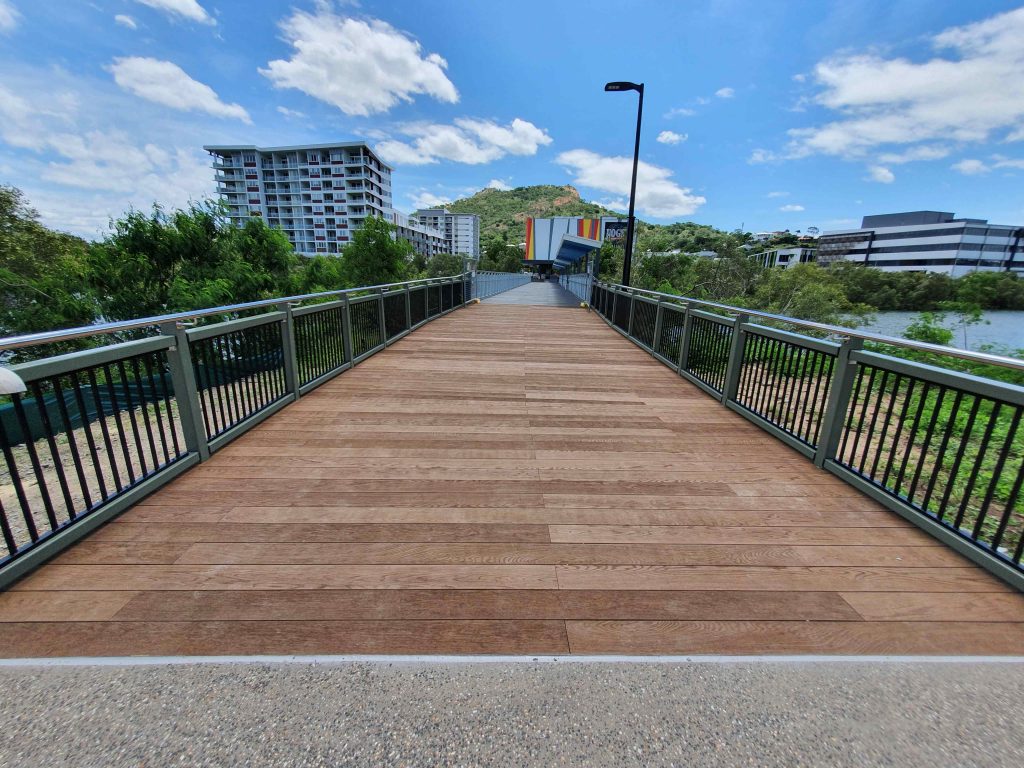 NQ Landscaping job completed! The PW Landscapes team have just completed a major job in Townsville for the new North Queensland Stadium. With a tight deadline of the Elton John concert the boys pushed through extreme heat of up to 45ºC, faced midgies, mud, humidity, itchy fibreglass, and even worked through a few weekends over the Christmas period! 
The job consisted of the installation of 4 x independent pedestrian boardwalk structures running along the Ross River adjacent to the Cowboys Stadium (Go the cowboys!). The locations included sections with cantilevered builds over rock embankments and through sensitive mangrove areas.
While Watpac were the primary contractor on the stadium build, PW Landscapes worked as the instalment team on behalf of Wagners who supply and engineer the CFT structures (Composite Fibre Technology).
The CFT structures provide a strong, long lasting solution that does not rot, rust of fall apart in the harsh salty environment. Plants Whitsunday and Main Engineering also designed and fabricated a customised pile driving attachment specifically for this project with the deepest pile driven being 22m deep.
Our boys did a spectacular job with managing just-in-time deliveries and design modifications on the fly. The customer was extremely happy with the final product and how the safety was managed on a difficult project.
The PW Landscapes work closely with engineers to provide design solutions for Beach Access ways and Pedestrian boardwalks through sensitive areas. 
PW Landscapes specialises in commercial and residential landscape design, construction and maintenance for North Queensland. Creating outdoor living spaces to suit your lifestyle, beautifying and adding value to each property.  With 12 years of extensive industry experience the PW Landscapes team has comprehensive knowledge on horticulture and landscape construction, offering personal landscape designs customised to the individual project.
If you need a stairway, bridge or boardwalk built please contact us on (07) 4946 1811 and see our landscaping page for more information.
And don't forget to follow us on Facebook!