We love Rocky Point Mulch!
We've been stocking Rocky Point Mulch for a few years now and they have recently undergone a major packaging re-brand which we just love! Not only are their products high-quality and beautifully packaged but they are wholly Australian grown and made with a lovely family owned and grown business story.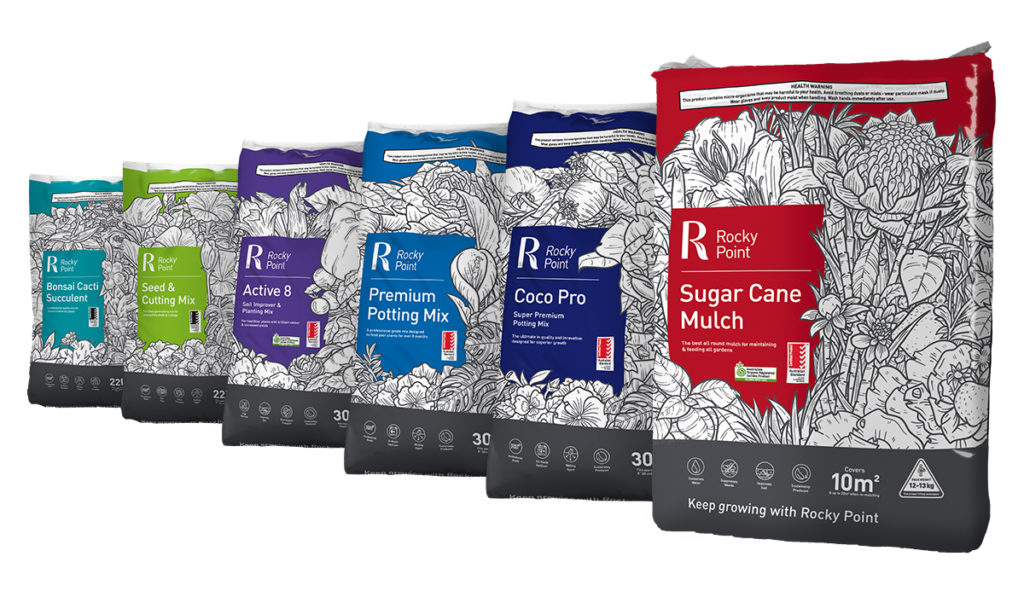 The journey begain in 1949 when the Keith Family bought their first sugar cane farm in the Rocky Point Area.  After growing cane for a number of years they started green harvesting in 1993 and baled the sugar cane trash for cattle feed and garden mulch. Since then they have joined forces with their children and Rocky Point Mulching was established. Their sugar cane mulch is the longest packaged mulch in Australia with millions of bags produced every year from raw products across farms in the Rocky Point, Northern New South Wales and Bundaberg area. Manufacturing quality growing media soils and composts they also have a renewables and re-vegetation division and are growing a reputation as an innovative and forward thinking, sustainable business within the agriculture and horticulture industries.
Recently they went through a major re-brand, working with a renowned Australian Illustrator Sophie Mary Mac to create beautiful, simplistic and informative packaging that links their progressive and innovative business ethos with their brand.The illustrations are thoughtfully designed with the individual elements of each bag appearing on the product it corresponds with – roses for Lucerne Mulch and veggies for Active 8. Combined with a simplistic icon system, the new packaging easily shows the main features and benefits of each product with more information available on the back of the packaging. You can find out more about the rebrand here.
We are proud to supply and stock Rocky Point Products and are excited to see what this business achieves in the future.